How to Get Your Band Playing Live at Festivals: The Ultimate Guide
---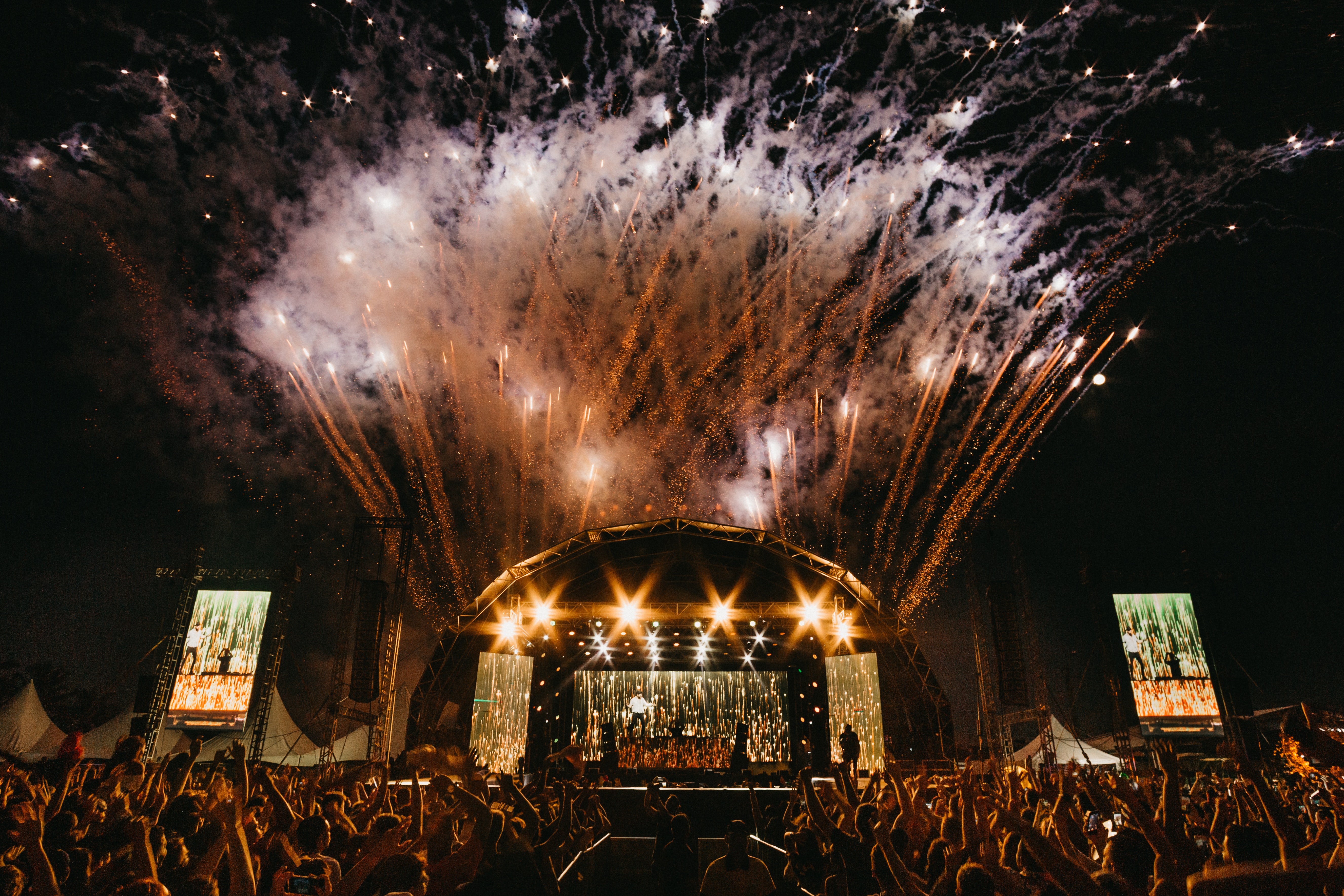 Aren't festivals brilliant? All the bands and the mud and the queues and the tents and the hangovers.

Brilliant.

There are so many though, aren't there?
Which ones are good?
Which ones are bad?
Which ones are mainstream?
Which ones are niche?
Which ones are right for your band?
You tell me. You're their agent.
It's a minefield.
No, but seriously. Not all festivals are suitable for your band and you need to understand the landscape. In my experience, some emerging artists measure their own success (or their agent's success) by how many festivals they are confirmed at. But as with anything, quantity isn't always the best metric.
And that goes for the money you're getting paid, too. (In the early days, anyway.) Four or five strong festival plays in a summer can far outweigh ten weak ones.
Let's take a look at what affects how good and suitable a festival is for your band:
Line-Up
How appropriate is the association with the rest of the artists playing?

How relevant are the artists on the bill this year?

Who played at the event last year?
Capacity
If the festival is big, what's the chances people will come and see your band?

If it's a smaller, boutique festival, will the exposure be worth the financial loss you'll make on the show?
Genre
Is the festival established as part of a particular scene?

What kind of audience does the festival attract?

Teenage pop-superfans/young, trendy, indie twenty-somethings/middle-aged, middle-class, beardy folk/aging metalheads?
Stage / Stage Line-Up
How prominent is the stage and can you find out how central or removed it is from most of the footfall for the rest of the festival?

Which other artists are lined up and how good is the association for your band?
Billing Position / Stage Time
Which artists are scheduled to play dirctly before and after you on the same stage?

Can you find out which artists are playing on other stages at the same time?

Are any of those artists going to attract the same kind of people who might want to see your show?
------
I remember one festival I played in Scotland. The band were based in Manchester and the drive was long, made even longer by the fact we put the wrong fuel in the van twenty minutes after setting off.
We waited to be towed, finally made it back to Chorlton and jumped in the singer's mum's car instead.
Off we went. Again
The festival was big, and although the stage we were playing was pretty small, all the bands performing on it were going to be filmed for the BBC. We were excited.
The closer we got to Scotland, the more it started to rain. By the time we arrived on site it was a swamp. But we weren't bothered, we were going to be on the telly.
We loaded our gear next to the stage, did our warm-ups and we were ready.
HELLO, SCOTLAND!
There was a maximum of ten people watching us, at the peak. We'd been rehearsing for ages, too.
The rain got worse, we finished our set, loaded back into the car and set off back to Manchester.
Was it worth it? Not at all. But the footage was good.
------
Learn to think like an agent
You may well be thinking that, realistically, you'd take any festival slot that was offered to your band and that it's more important for you to just get out there, play some shows and maybe earn some decent money in the process.
I can understand that and I don't want to put you off, if that's what you want to do. It's up to you.
Sometimes being associated with reputable festivals as an emerging artist will help propel you and will form part of your pitch when approaching other promoters, e.g. something to mention to a promoter is that a good, well-known festival booked your band.
It's going to depend somewhat on how long your band have been around and how long you plan to be around for.
As your profile grows and as you continue to represent your band until a proper agent comes knocking, why not think like an agent yourself?
Think not just about the benefit of playing the festival in the short term but about how it could help you establish your band for the long term and put you on the radar of the right kind of people.
Who's going to take more notice of your band if you have a good slot on a decent stage at a respected festival – a festival, or a stage, that is usually associated with exciting and emerging new artists?
Your fans, potential new fans, other artists and the music industry.
Who might you put off if your band are playing a rubbish slot on an inappropriate line-up? As the opening act on a wildly eclectic bill that has no real relevance to your band or the audience you're trying to appeal to?
Your fans, potential new fans, other artists and the music industry.
The music industry – mainly agents and promoters – scan festival line-ups to check who is playing, which stage they're on and where they're positioned on the bill.
If your band keep appearing in the 11 a.m., stage-opening slots – the slots that clash with most punters cleaning their teeth or still being sick after the night before – then you'll eventually be written off as an artist who has failed to make decent progress.
Take the 'second on the bill' slot at the minimum, wherever possible, and make sure that, if you play that same event again the following year, the slot you accept is either further up the bill or on a bigger stage.
It's all about the progress.
Money
Let's not forget about the money. Money is important. Money can be essential. Money might be the main reason your band want to play at a festival. Just don't let it cloud your judgement.
Playing the right show is going to benefit your band more in the long run than the money will. Probably. Unless it's loads. But you know what I mean.
Think about the positioning of your band. Think about maintaining the perception that your band are on an upwards trajectory. You're taking steps forward. Making progress. Going from strength to strength.
As your profile grows, so will the fees.
Yeah, yeah. But how do we get festivals to book us, Joe?
Thanks for asking.
How to get booked
Your band needs to be established to a degree before a festival will offer you a slot. The main festivals, anyway. You're going to be lucky to be offered a slot if you don't have many shows under your belt.
Your recent live activity, as well as recent releases and media coverage, are going to form your pitch to a festival booker. As will details about what is scheduled to happen in the run-up to the festival.
Your band's recent headline tour, and its success, will act as valuable currency when negotiating a fee and agreeing on the billing (position on the line-up) with a promoter.
And you know what's going to help that conversation hugely? If your recent shows were SOLD OUT.
Your band's worth naturally increases if tickets for recent shows sold out as, of course, it means your shows were packed with enthusiastic fans and it means some people couldn't get in.
Let's look at how you can capitalize on that in your approach to a festival booker:
Hi Steve,
I book shows for The Fake Band. Following the debut EP release and packed-out run of UK dates in November, I'd like to put them forward for The Great Summer Festival.
Here's the premiere of single 'Interesting Song Name' from October – [Good Music Blog Link]
The London show at Nice Small Venue sold out two weeks in advance and the next London play is in May at Bigger Small Venue. Here's one of the reviews from the Nice Small Venue show – [Good Review by Known Publication]
Let me know what you think.
Thanks,
Joe
Most mainstream festival line-ups will primarily consist of established artists. But that doesn't mean emerging bands don't have an opportunity to play. Up-and-coming talent is usually an important part of their appeal and identity as an event.
Headliners attract the headlines, but the emerging artists help keep the event interesting and relevant.
What do festival bookers look for?
As with any promoter, festival bookers need to hear about you, and they need to see that other people are hearing about you, too.
Which blogs have been supportive of your band?

Which radio stations have played the single?

Which magazines have mentioned you?

Which new music champions have tipped your band?

Which other artists have your band supported?

Which music streaming services have playlisted your music?
When you communicate to a promoter what levels of exposure your band have been getting, always try to give the impression that what you're telling them is the tip of the iceberg. Make it seem like there's plenty more where that came from, and you're simply giving them the highlights.
The same goes with any promoter, not just festival bookers.
New Music Festivals & Conferences
New music festivals and conferences focus specifically on emerging artists. There may be a handful of well-known headliners on the bill but most of the festival's line-up will consist of newcomers.
These types of tastemaker events are a great form of exposure for new bands on the scene and if it's a good event then you're going to be on a line-up which can be thought of essentially as a shortlist of exciting new artists that have a chance of going somewhere.
Many live music fans and people in the music industry (especially agents and promoters) will be on the prowl. These events are popular for providing the music industry with an escape out of the office.
They are great shows to do at the right time but make sure you're ready to impress, as you'll rarely get booked to play at the same new music festival more than once. Make it count.
How to get the right billing for your band
When an artist has some profile and festival bookers start to take serious interest, the conversation about where on the bill they should be positioned often comes down to what level the band are at, in terms of venue and capacity – particularly in London.
It is common for an artist to receive an offer which bills them below someone who is arguably smaller in profile.
If that happens to you, you might respond with something like:
Hi Steve,
Thanks for this offer.
However, please can we discuss the billing? The Fake Band's next London show is at the Bigger Small Venue, whereas The Other Fake Band are playing at The Nice Small Venue around the same time. Can we switch their places around?
Other than that, the offer looks good and the band are keen to confirm if we can agree on the billing.
I'll wait to hear back from you.
Thanks,
Joe
Challenge the billing position if you genuinely feel the artists positioned above your band are not worth as much as you. Look and see where their recent shows have been or what shows in which venues they have coming up.
Festival promoters should have a good understanding of where artists should sit on the bill, but they're only human and sometimes might not realize exactly how one artist's profile measures against another's.
You're right to point it out to the promoter when the situation presents itself and it's important your band have an appropriate position on the bill that reflects the level you're at.
Just don't be a dick about it unless you really have to be.
Exclusivity
Exclusivity can sometimes be a condition of the offer. This is common in festival bookings, especially when you occupy a prominent position on the bill. They're running a business and are trying to protect themselves which, within reason, is understandable.
If a main artist on the festival bill were to be playing a headline show nearby and at around the same time, then it would make their performance at the event feel less special. Some fans may just go to the headline show instead of buying a festival ticket.
As with anything else within an offer you receive, make sure you question it if it doesn't seem fair.
How long is the exclusivity period? How far-reaching is the area that it covers, i.e. how many miles radius from the show does the exclusivity cover?
Have the conversation with the promoter. You might agree that it is a reasonable request, or you can negotiate.
Don't sign yourself up if you are prevented from playing other shows in key areas during vital periods when you have other activity planned that requires support.
An exclusivity clause within an offer would read something like:
Exclusivity: the Artist agrees not to perform within a radius of fifty miles of the Big Pretend Festival in Cardiff within thirty days either side of the scheduled show date. Failure to comply could involve cancellation of the performance with no fee.
Brand new festivals
Be cautious of events and festivals in their first year, especially through an unknown promoter.
It might seem appealing to be part of a new event, to be one of the chosen bands on the bill. Check who else is playing.
There is usually a reason if other artists haven't confirmed. That might be because the promoter is unknown to agents. It might be because they're unlucky and no one will give them a chance. Maybe the event will be a huge success. Who knows?
But what it will likely mean is that there is some risk involved – risk that the event will be poorly attended, or that you won't get paid, or that it will damage your reputation, or that it won't go ahead at all.
Risk.
And risk is what you need to steer clear of when it comes to new events, because if it's a sinking ship, you'll sink with it.
In summary
Before you sail away, here's a recap:
Good festival shows can propel your band forward, even if you only have a few confirmed.
Weaker festival shows can do little to help you progress, despite how many you book.
Learn what to look for when deciding which festivals to pitch for and which offers to accept.
Your pitch to a festival should mention any recent successes, like positive media coverage and sold-out shows.
Evidence of a growing fan base, demonstrated by increased venue capacities for upcoming headline shows, will help you significantly.
Share with the promoter all notable exposure your band have had recently and create the impression everyone is talking about you.
Be careful when agreeing your billing position and do what you can to make the festivals and slots you play look like progress.
Respect exclusivity but if you feel that the area or time period it covers is unfair, challenge it before confirming to play.
Avoid playing festivals in their first year to avert risk, unless the organizers are credible and very well established.
Sign up here for my free online course 'How to Refine Your Pitch to Promoters'.